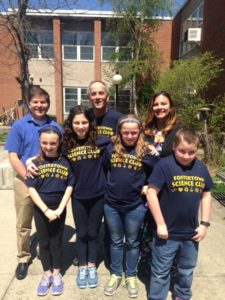 Newburgh, NY, April 2016—Mr. Garzione's garden at Fostertown Elementary School in Newburgh is starting to bloom, thanks to Unitex, a regional healthcare laundry industry business with locations throughout the Northeast (including Newburgh).  Committed to giving back to Newburgh schools and the community, Unitex made a generous donation to Mr. Garzione's Science Club, helping to refresh the school's existing garden as well as build a new 20' x 40' garden for the students to enjoy. And in addition to the donation, Unitex sponsored a pizza party for the second grade class at Fostertown Elementary School taught by Ms. Brand, Mr. Lane and Mrs. Dowling.  The class collected over 1,000 bottles and cans for one week during the school's recycling contest, making them the winner of the pizza party and festivities. These activities were all part of an annual project that Unitex created in celebration of Earth Day.
"The Science Club has been collecting cans and bottles for many years and we are proud of that," said Mr. Garzione, Fostertown ETC Science Club Teacher Advisor.  "And for over 3 decades, we have been planting flowers, vegetables and fruit on our school's property. In fact some of the parents of my current students planted some of the original trees on our school's grounds. We are extremely thankful to Unitex for the support they have provided over the years that will enable us to keep this tradition alive for years to come."
"We like to think that we are leading the way in the industry in regards to green technology, and we hope to instill the importance of embracing earth friendly practices in the younger generations, said David Potack, Vice President of Unitex.  "That is why we think it is important to take on projects like this.  Also giving back is a huge part of our company's DNA, especially when it comes to the local schools and we are happy to work with Mr. Garzione and Fostertown Elementary School."
About Unitex Textile Rental Services
Headquartered in Mount Vernon, NY, Unitex Textile Rental Services currently operates twelve laundry processing facilities and one garment warehouse throughout the Northeast. With locations in Newburgh, Mount Vernon and Middletown, NY, Hartford, South Windsor and Middlebury, CT, as well as New Brunswick, Perth Amboy and Linden NJ, Unitex is able to efficiently service all of the hospitals, outpatient surgery centers, imaging centers, professional offices as well as specialized operating needs of their acute care facilities.  For more than 90 years, Unitex has focused solely on their core business – providing and laundering comfortable, high-quality medical/patient care apparel and linen.  Visit:  https://www.unitex.com
Contact:
Seth Gershman
Unitex
sgershman@unitex.com  / Ph # 914.840.3233
Image 1: Ms. Brand, Mrs. Dowling and Seth Gershman (Unitex) are proud of the winning 2nd grade class
Image 2: Seth Gershman (Unitex), Mr. Grazione (Fostertown ETC Science Club Teacher Advisor) and Miss Santiago (Assistant Principal, Fostertown ETC) enjoy the garden area with students from the Science Club.