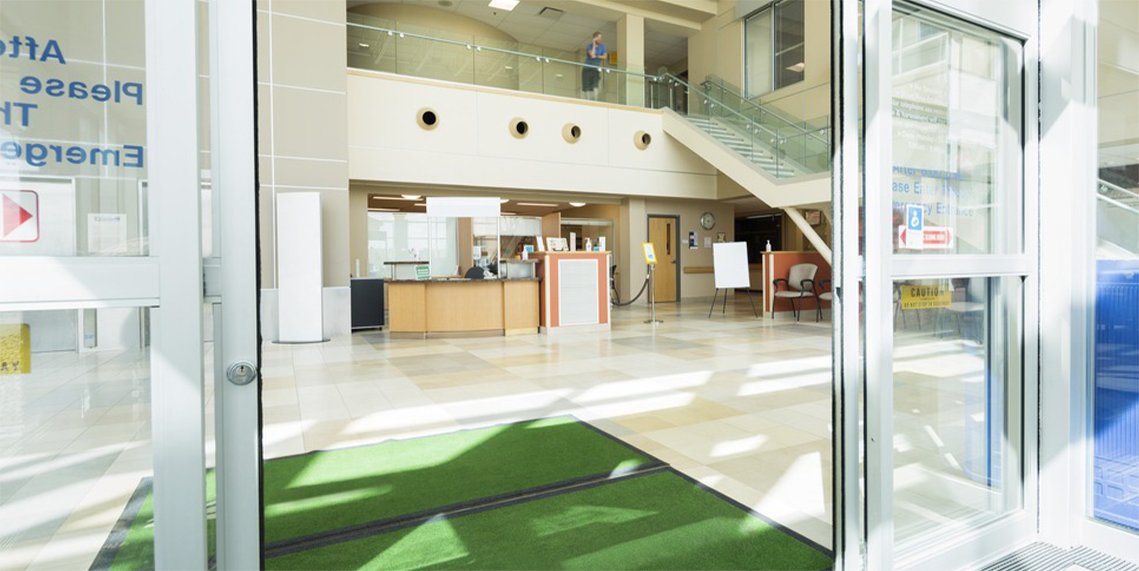 Medical Floor Mats
In addition to providing safe and hygienic medical linens and uniforms, we also provide medical floor mats! Let us take care of one more aspect of your healthcare facility management with our floor mat services and other environmental service products.
Our medical floor mats protect your business by limiting slip-and-fall injuries. After all, patients come to your medical practice to improve their health, not to have their health deteriorate. With our rubberized mats and entrance mats, you can protect your patients and your medical practice from slip-and-fall lawsuits.
Get Another Layer of Protection
Although all industries need floor mats, they are especially crucial in healthcare settings, where cleanliness and safety are of the highest priority. Our entrance mats will prevent the spread of dirt, dust and bacteria throughout your facility by removing unwanted debris from the bottoms of patient and visitor shoes before they enter your healthcare business. Additionally, floor mats throughout your facility help stabilize patients who are more at risk for slipping and falling such as the elderly or extremely weak.
Work with Unitex Healthcare Laundry Services for Reliable Medical Floor Mats
While medical floor mats are undoubtedly beneficial, they can also be difficult to clean and maintain. That's where Unitex Healthcare Laundry Services goes the extra mile! Through our floor mat rental services, we provide the floor mats that you need, maintain and repair them when they get worn out, and clean them when they're dirty so you always have hygienic and effective mats protecting your patients and your floors.To learn more about our environmental service products and medical floor mats, fill out our online contact form or call the Unitex Healthcare Laundry Services hotline today at 866-864-8399! We can help make your healthcare facility even cleaner and safer.
See Unitex Healthcare Laundry Services in Action!
Tour one of our ultra modern facilities to see for yourself how different Unitex Healthcare Laundry Services is.