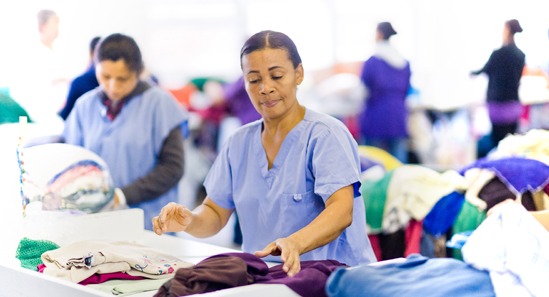 Residential Laundry, Clothing and Services
Keep your residents happy and feeling at home by keeping their linens, sheets, and personal clothing clean with the help of Unitex Services! We are the only company in the United States to have a separate laundry facility dedicated only for the care of residential laundry for assisted living facilities and other similar establishments. Your residents and their families would never have to worry about how their loved items are processed and you'll never have to worry about keeping up with the laundry and their items either.
Personal Laundry Service for residents of Extended Care and Assisted Living facilities as well as Cubical Curtains, Bedspreads and associated products.
The success of our programs helps build confidence that families have in your facility.
The only company in the country dedicating an entire facility to processing your residents' clothing and specialty products, which require special attention and handling.
Actively assists with JCAHO compliance.
Why Choose Unitex
Unitex is the only company in the United States that keeps multiple facilities for different services. With us, you can rest assured that your residents' linens, clothes, and other items are washed in machines that are separate from soiled hospital linens and apparels. We at Unitex have been in business long enough to understand that your needs differ from the needs of other facilities even when you may be in the same industry.
That is why we offer services and schedules that are tailor-made to suit your specific needs. Our technologies are one of the most advanced in the industry, our staff is full of experienced professionals, and we are committed to giving you the best quality services in the manner that best matches your need. Give us a call today to start experiencing the best in what we can offer you.