Mt. Vernon, NY, September 2016— Last month, Mayor Richard Thomas of Mount Vernon, visited Unitex's headquarters (located in Mount Vernon) to meet with company executives to discuss important issues pertaining to the city. The team at Unitex, including Michael Potack, David Potack and Robert Potack, met with Mayor Thomas to discuss the revitalization of Mount Vernon and how Unitex is fully committed to helping Mayor Thomas and his team with the challenges facing the city today.  During the plant visit, the group discussed various topics such as Unitex's perspective and guidance on economic development, housing and incentivizing companies to move to Mount Vernon.
They also discussed the need for improvement in the Mount Vernon West train station and working together to help make improvements. To that end, the Mayor is looking to David and the team at Unitex for their advice and support. The Mayor has an excellent vision for the future and understands the need for balance of industry, retail and improved housing opportunities for residents who work in Mount Vernon and those who commute to and from the city and Unitex is on board to help.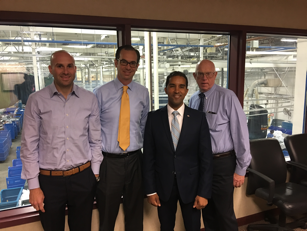 (from left to right: Robert Potack, David Potack, Mayor Thomas and Michael Potack)
"Mount Vernon is home to Unitex and has been for over 30 years," said David Potack, Senior Vice President of Unitex, "It was an incredible opportunity to meet with Mayor Thomas to discuss the future of our city together.  We are proud to do business here and look forward to the great improvements on the horizon. Community and family is everything to us and our company DNA was built on giving back.  We look forward to working closely with Mayor Thomas and his team to support Mount Vernon today and in years to come."
As a leader in the healthcare laundry industry, Unitex has fulfilled a critical role in Mount Vernon's business development since inception. Unitex currently employs over 400 team members at its 4 locations in Mount Vernon and regularly works with and supports local organizations. The team at Unitex looks forward to working closely with the Mayor's office on business development initiatives that will continually improve the city of Mount Vernon.
About Unitex Textile Rental Services
Headquartered in Mount Vernon, NY, Unitex Textile Rental Services currently operates twelve laundry processing facilities and one garment warehouse. With locations in Newburgh, Mount Vernon, and Middletown, NY, Hartford, South Windsor, and Middlebury, CT, and New Brunswick, Perth Amboy, and Linden NJ, Unitex is able to efficiently serve hospitals, outpatient surgery centers, imaging centers, medical offices, acute care facilities, nursing homes, and other healthcare facilities throughout the Northeast. For more than 90 years, Unitex has focused solely on its core business – providing and laundering comfortable, high-quality medical/patient care apparel and linen.  Visit: https://www.unitex.com
Contact:
Seth Gershman
Unitex
sgershman@unitex.com / Ph # 914.840.3233