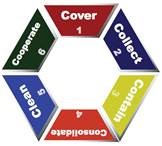 The proper handling of soiled healthcare linen is a critical focus of the healthcare industry. Not only does patient safety depend upon it, but so does the safety of healthcare workers, environmental services personnel, and anyone visiting healthcare facilities. Yet some facilities still do not handle their soiled linen according to OSHA regulations and best practices. Failures range from storing loose soiled linen in shared spaces with clean linen to discarding soiled linen in trash and/or red bag waste receptacles. The costs associated with these failures can be vast: infections transmitted through improper procedures can cause illness or injury; degraded safety levels worsen patient experience and worker satisfaction; and improper disposal damages the environment and costs the healthcare industry millions of dollars each year.
One of the best ways to improve soiled linen handling practices is through the use of low impact, high yield training for workers. Low impact, high yield training focuses on the fundamental information workers need to complete tasks without flooding them with complex data and explanations. This training makes use of numerous mediums to present subjects, with a primary focus on visual means. To reinforce the training, administrators can execute a variety of learning methods to connect training fundamentals to proper workplace behaviors. Scrolling digital displays, signage, and learning assessment tools can be used to stress the importance of following correct procedures. Together, training and positive messaging can enhance the safety of the healthcare environment.
In 2015, Unitex worked with the Textile Rental Services Association (TRSA) and some of its member companies to create a training video called "The 6 C's: Handling Soiled Linen in a Healthcare Environment". This video, developed in cooperation with the American Reusable Textile Association (ARTA) and the Association for Linen Management (ALM), provides best practices based on OSHA's Universal Precautions for handling soiled healthcare linen. Unitex, TRSA, and other member companies have distributed the video to over 1,250 healthcare facilities while working with facility administrators to support training initiatives. This effort has improved the level of cooperation between healthcare providers and their linen service companies, thereby making the healthcare environment safer and more efficient.
Check out a trailer for the training video here and contact Unitex today to learn more about how we can help your facility better manage your laundry needs!
By Michael Lang
Michael Lang is a Process Analyst with Unitex, and has developed and written business and process documentation for numerous years. You can find him on LinkedIn. To learn more about what we do at Unitex, click here.