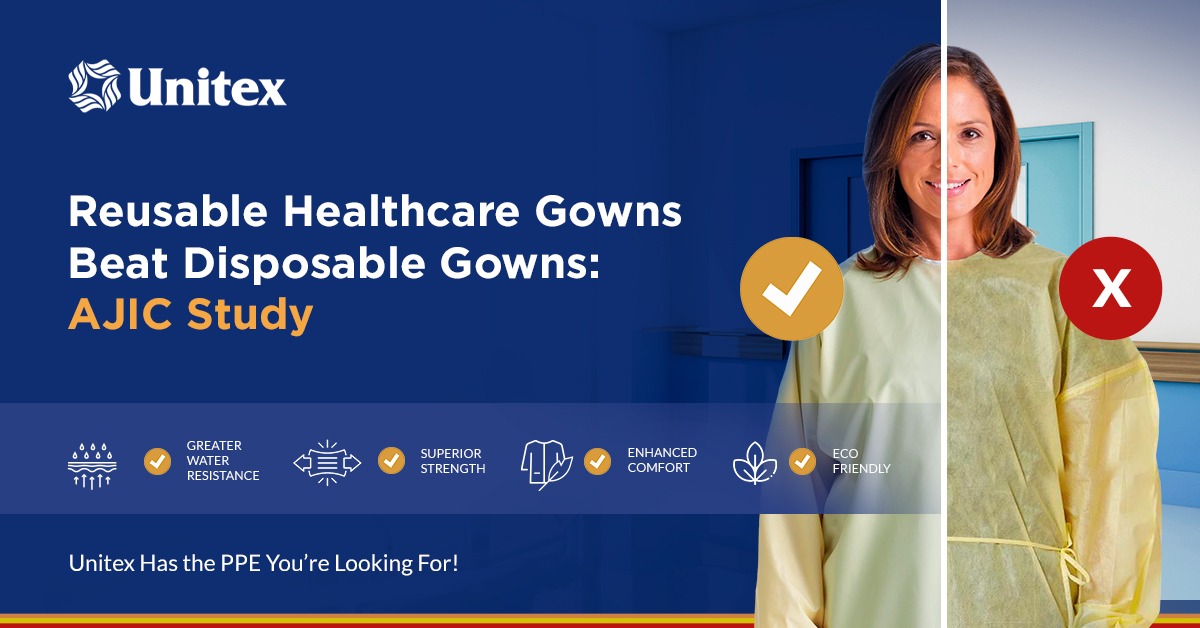 A study conducted by the American Journal of Infection Control (AJIC) shows that reusable healthcare gowns are safer than single-use gowns. Both reusable healthcare gowns and disposables underwent testing for durability and protection offered against contamination. Here are the findings: 
The Study's Highlights
Reusable healthcare gowns outperform disposables in many key ways. The most important of which showed:
Reusables Provide Greater Durability
Gowns designed for multiple uses have longer lifespans than those used only once. As a result, greater strength as well as resistance to water and piling are important features of reusables. Users get the best bang for their buck when they go with reusable healthcare gowns. 
Support from Commercial Laundries is Highly Beneficial
Laundry services were found to not have any negative impact on the protection or performance of reusable gowns. In fact, quite the opposite is true. Laundry facilities typically maintain the integrity of the linens that they work with through exhaustive cleaning and repairing. Many even replace those reusable gowns that aren't performing the way they should with new ones that will. 
Lower Environmental Impact
Reusability is a cornerstone of eco-friendliness. When working with reusables, less energy is required to create them and less ground must be covered during shipping. The ability to continually reuse gowns means that there is less of an impact on the environment throughout their useful lifespan. 
The CDC Backs Them
As stated in the study, the Centers for Disease Control (CDC) has endorsed reusable gowns due to the impact shortages have on disposable gown stock. When Covid-19 hit, personal protective equipment (PPE) surged in demand and led to increased scarcity. They especially recommend reusables in the event of future supply shortages. 
Unitex Proves this Study Correct
Unitex has the reusable gowns that every healthcare facility needs. Our reusable healthcare gowns are:
Built to Last

: Unitex products are long-lasting and durable. Each gown will withstand any challenge wearers could put them through. We also maintain them ourselves through repairs and full replacements covered in our commercial laundry service.

Hygienically Clean

: That very same laundry service has earned us a solid reputation for thorough washing. We are accredited with the

TRSA's Hygienically Clean Certification

for our efforts. Our state of the art machinery has never met a stain, chemical, or bacteria they couldn't wash away. 

Eco-Friendly

:

Unitex's green commitment

ensures that our environmental impact is as minimal as possible. We conserve large amounts of water, gas, and electricity during our laundry process as well as when we produce each gown.

Always in Stock

: Regardless of the outside circumstances, Unitex has the supply that its customers need. No pandemic, economic downturn, or other trade disruptions will affect our output or our customers' stock.
Get High Quality Reusable Healthcare Gowns from Unitex!
Unitex supplies the best reusable gowns in the healthcare industry. You can start today by calling (914) 840-3200 or contacting us here for a free quote.