Elmsford, NY July 2017— Unitex was named "Corporation of the Year" by the Association of Hispanic Healthcare Executives during the organization's 17th Annual Healthcare Diversity Awards Ceremony that took place at the New York Academy of Medicine at the end of June. This year's event theme was "Mentoring Healthcare Leadership Talent."
Since 1998. the Association of Hispanic Healthcare Executives (AHHE) has been the premier leader for Hispanic/Latinos seeking to advance themselves to management and C-suite leadership positions in the healthcare and hospital sectors. Unitex, a leader in the healthcare laundry industry, was chosen as the recipient of this award for the job opportunities they provide to Hispanic employees at all levels of the organization and for the support they are proud to give to Hispanic communities across the Northeast.
Unitex has a history of working closely with the underserved communities in and around the areas where their laundry processing plants are located. The diversity of their workforce is a real strength for the company and has been an integral part of their growth and success.  Several of Unitex's Hispanic employees have risen to senior management level positions within the company.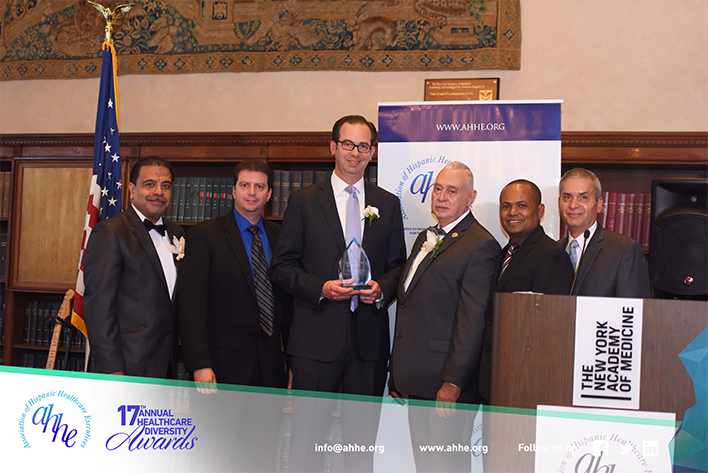 (From Left to Right): Luis Vazquez, 2017 Award Chair; Nelson Ramos, Regional Operations Manager, Unitex; David Potack, President of Unitex, George A. Zeppenfeldt-Cestero, President & CEO, Association of Hispanic Healthcare Executives; Ramon De Los Santos, General Manager of Newburgh, Unitex; and Vidal Guzman General Manager of 401, Unitex.
"We are honored to receive the Corporation of the Year award from the AHHE," said David Potack, President of Unitex. "And we are proud that the Hispanic community recognizes the work and support we give to our team. We look forward to working with the AHHE in the future and supporting their efforts in years to come."

About Unitex Textile Rental Services
Headquartered in Elmsford, NY, Unitex Textile Rental Services currently operates eleven laundry processing facilities and one garment warehouse throughout the Northeast. With locations in Newburgh and Mount Vernon, NY, Hartford, South Windsor and Middlebury, CT, as well as New Brunswick, Perth Amboy and Linden NJ, Unitex is able to efficiently service all of the hospitals, outpatient surgery centers, imaging centers, professional offices as well as specialized operating needs of their acute care facilities.  For more than 90 years, Unitex has focused solely on their core business – providing and laundering comfortable, high-quality medical/patient care apparel and linen.  Visit:  https://www.unitex.com
Contact: 
Seth Gershman, Unitex sgershman@unitex.com  / Ph # 914.840.3233