New Plant in Linden, NJ Will Employee Over 200 Local Residents
Linden, NJ, May 2016— Unitex, a regional healthcare laundry company with locations throughout the Northeast, is opening its 12th facility at 301 Pleasant Street in Linden, N.J. This will be the fourth facility the company owns and operates in the state of New Jersey, with existing facilities in Perth Amboy and New Brunswick. The Linden plant will officially open in June and is currently taking applications to fill its 200+ positions.  With jobs ranging from production workers to mechanics and drivers, the Linden facility will provide over 200 full-time employees with a challenging, fast-paced, and rewarding work environment in which they can develop themselves and their co-workers to a greater level of potential.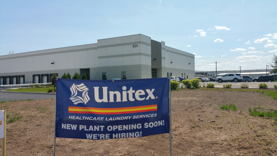 As a leader in the healthcare laundry industry, the team at Unitex is always looking at new green practices to run their plants more efficiently and cost effectively while benefiting the planet. The green technology being utilized at each plant is the key to innovating in the marketplace and growing even larger in the Northeast region and beyond.  To that end, the company is continually looking at news ways to help improve the carbon footprint by efficiently using energy, implementing state-of-the-art equipment and resourceful procedures and reusing and recycling material regularly.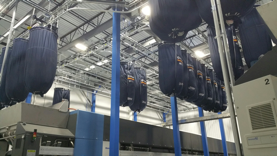 It is crucial for the team to make environmental stewardship a priority always, and the 67,000+ sq. ft. Linden plant is following that direction.  In fact, the Linden facility is comprised of the most advanced laundry and linen processing systems in the world.
The Linden facility has the capability to process 1.1 million pounds of linen per week, and will primarily serve hospitals and nursing homes in N.J. and N.Y. Inside this new state of the art processing facility, you can see huge slings holding more than 200 pounds of laundry each, while workers busily sort thousands of pounds of linens.  Alongside this process, automatic machinery that moves and sorts the linens through the plant feed washing machines that are each capable of washing over 7,000 pounds of laundry an hour, utilizing the most energy efficient technology available.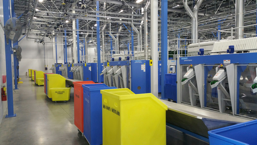 "We are ecstatic to be here in Linden and have bright plans for the future," said David Potack, Senior Vice President of Unitex. "It is our goal to employ as many local residents as possible and to give them the opportunity to work for a company that they respect and trust. Since we are a family-owned business, we are involved in every step of the process and want to ensure that our company works well on all levels. And aside from our team here in Linden, we want to reinforce the importance of community and our desire to work closely with the city to help support local events and programs. Giving back is in our company's DNA and we anticipate becoming a big part of the community of Linden, similar to the support we show in the other cities where our facilities are located."
Unitex is proud of its business presence in New Jersey and looks forward to working with the residents in and around Linden to better serve its customers and local communities. For more information about Unitex, the Linden plant, and job opportunities, contact:  (908) 214-7939
About Unitex Textile Rental Services
Headquartered in Mount Vernon, NY, Unitex Textile Rental Services currently operates twelve laundry processing facilities and one garment warehouse. With locations in Newburgh, Mount Vernon, and Middletown, NY, Hartford, South Windsor, and Middlebury, CT, and New Brunswick, Perth Amboy, and Linden NJ, Unitex is able to efficiently serve hospitals, outpatient surgery centers, imaging centers, medical offices, acute care facilities, nursing homes, and other healthcare facilities throughout the Northeast. For more than 90 years, Unitex has focused solely on its core business – providing and laundering comfortable, high-quality medical/patient care apparel and linen.  Visit: https://www.unitex.com
Contact:
Seth Gershman
Unitex
sgershman@unitex.com  / Ph # 914.840.3233