Download Our Long-Term Care BookletRequest A Free Quote
While some residential facilities use in-house laundries as a way to get the job done in a cost-effective way, the truth of the matter is that laundering costs are rising.
When you have immense laundering needs, your on-site laundry may not be enough.
That's why many long-term care facilities are turning to offsite, independent medical laundry facilities. Not only does a professional laundry service provide consistent results, but they actually save residential facilities money in the long run.
Here at Unitex, we've been providing medical laundry services for more than 90 years and, through decades of experience, we've only seen this trend grow more and more over time.
Here are three reasons why long-term care facilities are outsourcing their laundry:
Stricter Regulations Will Be Costly
We all know the saying that one bad apple can ruin the whole bunch and that, unfortunately, is true for residential care facilities. The mistake of one facility can lead to increased regulations that affect all facilities. And, while regulations usually mean additional safety for residents and employees alike, they can be costly.
Compliance costs money. Rises in fines combined with an expansion of CMS infection control requirements means that in-house laundries are becoming more expensive to run – and fast.
Minimum Wage is Increasing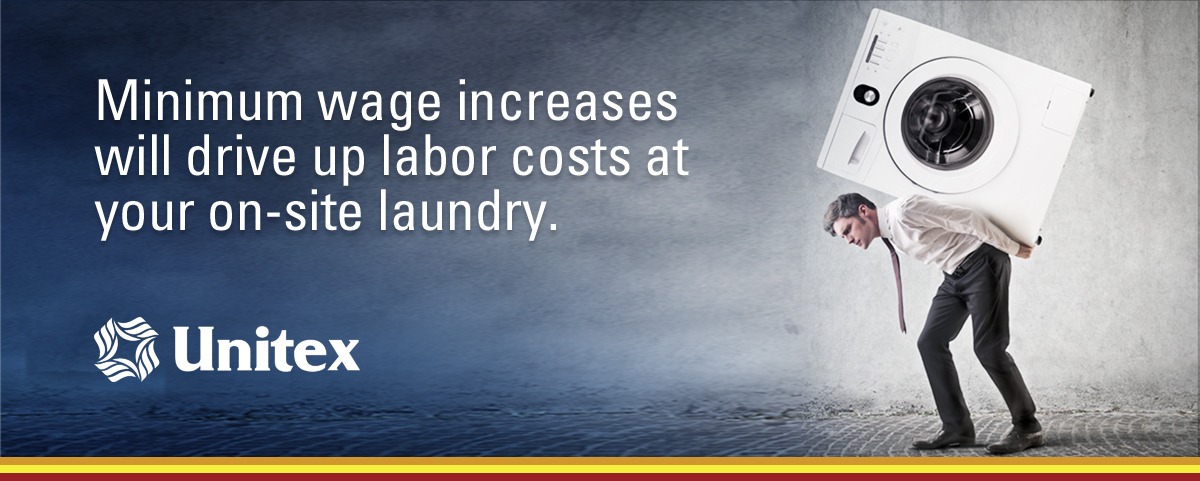 Many residential care facilities depend on minimum wage workers to run their in-house laundry. These workers process large amounts of bedding, clothing, and other important textiles. These workers are necessary for in-house laundries to run effectively but, with minimum wage increases, it's becoming more expensive to employ them.
A study conducted by RTI International found that if minimum wage raised to $10, $12, and even $15, employers would experience total cost increases of 1%, 5%, and 13% respectively. This study specifically examined the effects of minimum wage hikes on long-term healthcare facilities. So, even if your facility hasn't experienced this yet, these increased costs are in the nar future.
Government Reimbursement is Decreasing
According to a recent Kaiser Family Foundation study, Medicaid and Medicare are the primary payers of nursing home care and over 75% of long-term care facilities. This number is only going to continue to grow.
Medicaid is expected to grow 6% annually, hitting $650 billion by 2027. Medicare's hospital insurance fund will be insolvent by 2026. But what does that mean for your facility?
Unfortunately, these statistics point to a costly outcome. Government payments for resident care will likely drop soon, which will decrease your revenue significantly.
Outsourcing Your Laundry is the Cost-Effective Solution
The fact of the matter is that the costs of running an in-house laundry will only increase with time. Outsourcing your laundry isn't only cost-effective, but it comes with a wide variety of benefits including consistency, more sustainable laundry practices, increased space in your facility for other uses, and, best of all, more time to spend on what's most important – your residents.
Let Unitex Take Care of Your Laundry Today!
For more than 90 years, Unitex has been a family-run business that focuses strictly on the medical industry. We don't cut corners on quality or customer service, and we make sure you get what you need, on a schedule that works best for you. 
We strive to exceed expectations with our cleanliness and unrivaled service. Experience the Unitex difference today and contact us for more information and a free quote at 914-840-3200.