Elmsford, NY, December 2017—The holiday season came a little early for children at four local hospitals thanks to the team at Unitex.  For the 4th year in a row, Unitex has partnered with local tri-state area hospitals to spread holiday cheer to sick children and their families. Even though this started out as a small event in northern New Jersey, the team has expanded its reach to hospitals in Queens and South Jersey. The holiday celebrations are part of the Unitex Cares program that focuses on giving back to local communities across New York, New Jersey and Connecticut.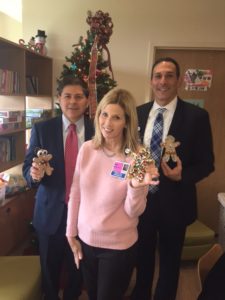 "Based on the success of our past events and seeing what joy it has brought to so many children and their families, we decided to reach out to some of our other hospital partners to plan similar events, said David Potack, President of Unitex. "Years ago, we started out visiting children at the Joseph M. Sanzari Children's Hospital at Hackensack Meridian Health and St. Joseph's Children's Hospital, both in New Jersey and since then have added St. Mary's Hospital for Children in Bayside last year and Virtua Voorhees Hospital this year."
At all four events, the team at Unitex brought crafting supplies and presents for each kid.  From card making to stocking decorating, the children were happy to take part in festive activities that helped bring holiday cheer to everyone that day.
"Seeing the kids' heartfelt reactions to our visit is what this is all about," said Seth Gershman, Director Marketing & Communications, Unitex. "There is nothing more magical than the positivity and hope that these special events mean to these families.  We are thankful to work with such amazing hospital partners each year, and the fact that this keeps growing speaks volumes about the impact it has and we hope to add even more events next year."
"The holiday season is a special time of year, especially when St. Mary's staff and kids get to spend it with loyal volunteers and supporters like Unitex," said Victoria Falcone, Manager of Strategic Partnerships at St. Mary's Hospital for Children.  "It is an honor and pleasure to have them bring holiday smiles and cheer to St. Mary's Kids and we are lucky to have them as a partner."
In the main picture: (back from L-R Seth Gershman, Marketing Director, Unitex ; Lisa Miller, PR;  Jane Matthews, Sr. Account Manager, Unitex)
In the second picture: (L-R Seth Gershman, Marketing Director, Unitex; Beth Van Buskirk, Manager,  Child Life, Virtua; Eric Rubin, Sr. Account Manager, Unitex)