The Shelter Dog Bed Project started back in 2011 after Patty Hitchborn witnessed a shelter dog curled up on a hard, cold floor. At that moment, Patty realized that she had discovered a practical solution to a common problem—beds for shelter dogs. Patty has transformed hundreds of comforters, blankets and pillows into usable dog beds that have since been transported to nineteen states. Recently Patty partnered with John Iannuzzi, the founder of the Shelter and Rescue Partnership (SRP).  The SRP is made up of 60 primary and direct animal rescues, shelters and sanctuaries in six states, and supports over 75,000 animals a year. The primary groups also work with a secondary grouping of over 200 rescues, shelters and sanctuaries.  In addition, they work with a select group of vets who provide no cost or low cost support to many of the members of the partnership.
John started the SRP because he loves animals and wanted to give back.  The team at Unitex, a regional business with locations throughout the Northeast, and a leader in the healthcare laundry industry, has admired John's work and has helped support his initiatives for the last five years. In fact, the company has donated over 320,000 recycled bed pads and rags to rescues and shelters that use these items in a wide range of situations such as underpadding during surgical procedures, bedding during transports, bedding in cages and kennels, and as protection during hoarding cases in the winter. Every week John drives his van to Unitex's Mt. Vernon, NY corporate office to collect bed pads for his partnership.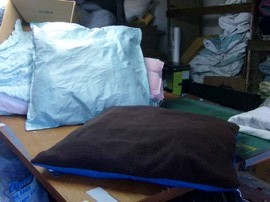 Since John's recent partnership with The Shelter Dog Bed Project, Unitex has committed to an ongoing donation of bed pads to help make this project possible. A dedicated group of volunteers with The Shelter Dog Bed Project will transform various parts of the bed pads, donated by Unitex, into soft and comfortable dog beds. Once complete, the dog beds will be picked up by dog rescue groups and transported to shelters in need throughout Connecticut and other states.  To that end, thousands of dogs in shelters across the U.S. will now have a soft and warm place to sleep.
"We are ecstatic to have the opportunity for an ongoing relationship with The Shelter Dog Bed Project," said David Potack, Vice President of Unitex. "Giving back is in our company's DNA and we realize the importance of giving back to our communities, its people and of course, its animals. We hope this project will help inspire others to do the same."