Mt. Vernon, NY, August 2016— Mount Vernon track superstar, Deajah Stevens, will be competing in the 200-meter dash on August 15th in the 2016 Olympics and her family will be there to cheer her on, thanks to the help of Unitex, several other local businesses and a gofundme campaign. NBA star Ben Gordon, also a Mt. Vernon High School alumni, made a contribution to help the family meet their donation goal of $13,000.
Mayor Richard Thomas organized a "sendoff "event on August 5th at City Hall with local business owners, media representatives and members of the community to celebrate Deajah's Olympic journey and to wish her family best wishes in Rio. Deajah's mom and sister will soon leave for Rio to support the superstar sprinter, who is already settled in the Olympic village. David Potack, Vice President of Unitex, took to the podium to show his enthusiasm and support for Deajah and her family.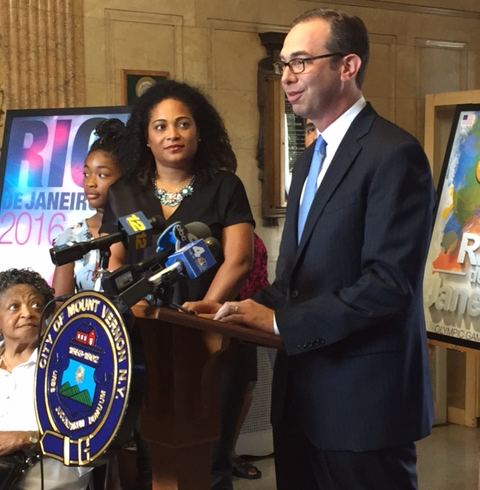 David Potack of Unitex stands with Deajah Stevens' family to address the crowd during the community event at City Hall on August 5th. 
"We are ecstatic that Deajah will compete in Rio among the world's best athletes and we are equally happy that Deajah's mother and sister will be joining her during the race," said David Potack, Vice President of Unitex. "Deajah's family should have the opportunity to be at the end of the finish line on August 15th and the community as a whole helped to make that happen.  Mount Vernon is home to some of the best athletes, each and every one is a true inspiration to others in our community.  This event proves that our city is also home to some of the most generous and loving people and that is truly amazing.  We all look forward to seeing Deajah come home with the gold."
Unitex, a leader in the healthcare laundry industry and major Mt. Vernon based business, is dedicated to giving back to the community. In fact, giving back is in the company's DNA. Supporting the younger generations in Mt. Vernon is something that the team at Unitex does often, and takes seriously. By helping to build a strong foundation for the city's children and families, Unitex hopes to give everyone the chance to pursue their passion and follow their dreams, like Deajah.
About Unitex Textile Rental Services
Headquartered in Mount Vernon, NY, Unitex Textile Rental Services currently operates twelve laundry processing facilities and one garment warehouse. With locations in Newburgh, Mount Vernon, and Middletown, NY, Hartford, South Windsor, and Middlebury, CT, and New Brunswick, Perth Amboy, and Linden NJ, Unitex is able to efficiently serve hospitals, outpatient surgery centers, imaging centers, medical offices, acute care facilities, nursing homes, and other healthcare facilities throughout the Northeast. For more than 90 years, Unitex has focused solely on its core business – providing and laundering comfortable, high-quality medical/patient care apparel and linen.  Visit: https://www.unitex.com
Contact:
Seth Gershman
Unitex
sgershman@unitex.com / Ph # 914.840.3233