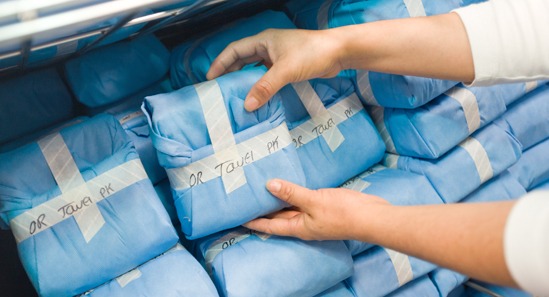 When life, health, and safety are on the line, don't take risks with just any linen provider. For surgical linens that you and your patients can fully trust, get surgical linens and uniforms from Unitex! We have an extensive line of surgical linen products, from patient wear to medical professional apparel, all maintained and treated according to the highest standards set for medical linens.
Choose from among our range of topnotch surgical linen products:
        Surgical Gowns

        Surgical Towels

        Surgical Sheets

        Wrappers
Unitex's surgical linen program is designed to help ease the burden of procuring and maintaining surgical linens without jeopardizing quality, greatly benefiting medical staff and patients alike.
We offer non-sterile surgical pack programs delivered directly to your facility. We have exactly what you need, precisely when you need it.

Our reusable surgical textiles better than their disposable counterparts on account of cost, product quality, and physician comfort.

Our reusable, fluid-resistant surgical apparel meets all the guidelines set by the OSHA and the CDCP and is preferred by more doctors over the disposable alternative.
Quality Above All in Surgical Linen
Unitex is the undisputed leader and most trusted name in medical linens. For the last ninety years, we have never wavered on our commitment to quality at every level of our service. And this is exactly what we bring to your table: high-quality products handpicked to meet the most meticulous standards, a medical laundry process that strictly follows the grittiest of guidelines set for medical linens, separate specialized facilities for more focused results, services adjusted to suit your company's specific needs, precision delivery to make sure your linens never get in the way of your operations, and technologies developed to ensure accurate billing and tracking to minimize losses and other inaccuracies.
Unitex is your best choice for surgical linens. Start your rental program today. Call 866-864-8399 to speak to a representative or schedule a visit!